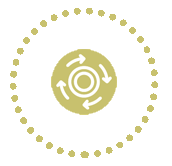 Holistic comes from the Greek όλος, meaning "totality."When we talk about holistic nutrition or medicine, we are therefore talking about a system that envisions the achievement of "total" well-being, a perfect balance between health, nutrition, psyche, etc. In the case of medicine, one is concerned with stimulating the synergies that cause discomfort and counteracting its cause in a completely natural way.
The Holistic diet aims to nourish the animal as if it were in nature. The aim of the Holistic Diet is to reestablish the body's natural synergies with proper nutrition, so as to ward off disease and increase the immune system's power to defend itself. Learn more about the Holistic Diet.
The Holistic Diet is based on the natural synergies of the dog and cat. The aim is to reactivate, through activation, the animal's immune, neurological and digestive systems by feeding it with elements it would find in nature.