Paco has been a fixture in the dog and cat food and care products market for 18 years, and by now, we have gained some experience in recognizing at a glance the quality of the ingredients and materials we select. Our goal is to give you, too, the tools to understand which food is suitable, balanced and contains healthy elements, for your dog and cat. That's why we have designed a very simple method of evaluation: the Paco snouts.
You may have come across a page like this: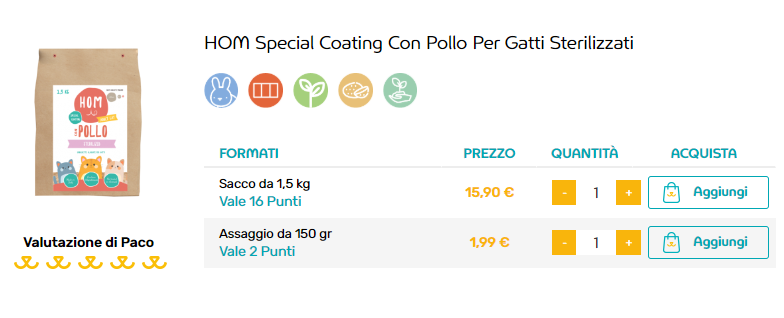 Special indicators have been added to the product pages to improve the food search. In addition to the rating of other users who have already tried the product, expressed in stars, you will also find Paco's snouts.
Paco'ssnouts are additional qualitative indicators on genuineness and correctness in production methods, assigned by Paco. These kibble, wet and pet care products are ideal for the most demanding pet owner and the most delicate pet palate. There is great care and attention in their making, which Paco does not underestimate but, on the contrary, wants to enhance with a unique recognition in the Pet Food sphere. An additional distinguishing feature that 'rewards' companies that care about the health of pets and do not want to harm their health just for profit.
How Paco's snouts work
This rating system is awarded to those products that reflect what Paco wants to enhance: respect for the nature of dogs and cats, genuineness of raw materials and sustainable production.

Five Musettosrepresent a perfect synergy between production, genuineness and quality-price. Five muzzles stand for great respect from the producing brand and absolute satisfaction from customers who have tried the food or product.