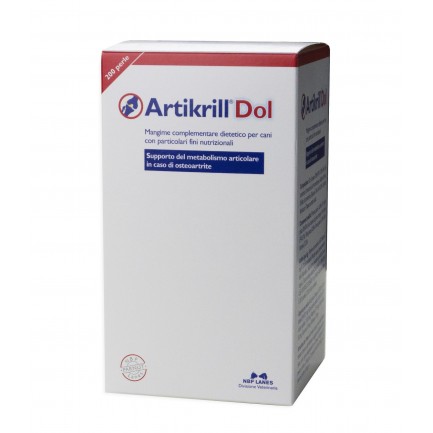  
---
---
Read the reviews
Artikrill Dol pearls for dogs is a the unique and innovative nutraceutical treatment forosteoarthritis in dogs, especially in the early stages.
It allows you to counteract all the negative components of the early stages of osteoarthritis such as
pain, inflammation and oxidative stress.

Read more
---
ArtiKrill Dol dog is indicated to reduce inflammation and joint pain, which is frequent in dogs with primary and secondary osteoarthritis, also in combination with drug treatment to control the condition.
In the long term, it has no side effects, and is used for the treatment of osteoarthritis in dogs, facilitating the reduction of drug dosage.
Finally, it is indicated in the treatment of both forms of joint hyperalgesia (pain as a result of movements against tissue resistance) and in a damaged or inflamed joint, where pain occurs even during movements made within the normal working range.
Artikrill Dol dog acts quickly against joint pain, counteracting oxidative stress and joint inflammation, and reducing chondrolysis.
Read more about it on Paco's Blog

ARTHROSIS AND ARTHRITIS IN DOGS: CAUSES AND REMEDIES(click HERE)
Any questions about this product? Write to info@pacopetshop.it or Whatsapp on the number +393518877872.
Remember to indicate the product to which the question refers.
100% secure payments
arrow_back